Finding your ideal new Audi is exciting, but it can also be a stressful and time-consuming process. At Wyoming Valley Audi, we know how difficult the vehicle research process can be. So we're making things easier for car buyers in Moosic, Scranton, and Dallas, PA, with our Audi vehicle reviews.
2018:
2018 Audi S7 Review
2018 Audi TT Review
New Audi Reviews
Again, Wyoming Valley Audi knows that researching vehicles and finding the perfect model for your specific needs is stressful. That's why we've created our Audi vehicles reviews as your main source for all your vehicle research needs.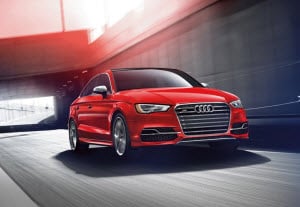 Our Audi reviews are designed to simplify and streamline your decision-making process. They'll help you discover the type of vehicle you want, narrow down your options, and select the car that perfect for you.
We've created a review for every Audi in our showroom, and each review covers the most important details you need to know to make your car buying decision. This includes:
Performance specifications and options       
Standard and available features          
New safety and infotainment technologies          
Interior amenities and dimensions
Plus you can trust our reviews to give you the accurate information you need to make sure that you drive home in the car that's best for you.
Best of all, our Audi reviews make the entire research process easier and more convenient. Every vehicle review provided by Wyoming Valley Audi contains the information you need on one page so you don't have to spend hours researching. All you have to do is read one of our reviews to discover the model that's right for your driving needs.
Check Out Our Audi Vehicle Reviews Now!
On this page, you'll find our trusted and detailed vehicle reviews. To learn more about each model at Wyoming Valley Audi, just click on a review.
And if you have any questions or can't find a specific Audi vehicle review, just give us a call or contact us online. The experts at Wyoming Valley Audi will be available to give you any additional information you need to make an educated car buying decision.
Happy researching!